FROM ANYWHERE TO ANYWHERE!
Airport, hotel and cruise transfers to and from all destinations in Egypt.

We welcome you at the terminal of the airport or port, holding a sign with your name written on it, and a big ''welcome smile''.
We will help with your baggage and escort you to the waiting vehicle of your choice.
Individual Tours is a highly customer orientated, innovative team intending to offer its guests carefully prepared private daytrips
and sightseeing where you are personally taken care of.
If you are tending away from mass tourism and prefer traveling in small groups with acquaintances or friends only
we are the ideal company for your booking. Use our additional advantage and choose - just for your personal group - all inclusive
offers that are clear and personally organized exactly for your group.
Of course we are glad to accept your personal wishes and we will help you to organize your stay accordingly.
Feel the inspiration with a new kind of our transfers.
We take you to the most beautiful and romantic areas in and around, mostly far away from the classical sightseeing routes.
You go by family owned, comfortable, air-conditioned mini vans up to 14 seats.
Our friendly and well qualified employees make your holiday a matchless experience,
an experience you never would like to miss in your life.
We offer you to experience Cairo and its surroundings in a whole new way without the group travel stress or the circumstances of a rental car.
No search for a parking spot, no bus timetables, you have to conform to, but the individual service of our team, which will be molded to your wishes.
we are also your competent partner for arrivals!
We'll welcome you directly at the terminal exit and we'll make sure that we will be there at least 15 minutes prior to your arrival on site,
so there will be no unnecessary waiting time
We also provide the following services:
Customized tours by small and large buses can be arranged.
Group transfers for conferences, seminars, meetings and weddings..
We can also organize a package for one day inclusive of air or sea tickets, transport and tours. Also for
those persons wishing to overnight arrangements can be made.
24 hour Transfer Services
Airconditioned vehicles
Door to Door On Time Service
English Speaking Drivers
Airport, Ferry Port & Hotel Transfers.
Wedding & Corporate Event Transfer
No Hidden Costs
Our fleet of mini-vans and cars offer a comfortable, reliable and economical transport
We also provide transportation for Film and TV crews
We will take you to some of the most popular and beautiful sights on Egypt.
We will pick you up from your hotel or cruise ship and we will return you to the same spot.
You will be shown you the places, that we locals feel are the hidden treasures of our sights
Whether you need hotel or airport transfers, private group tours or activity shuttling for your group we have the
staff and the vehicles to accommodate a wide range of transportation needs.

Compared to other forms of transport we offer a more efficient way to travel in comfort. Often less expensive than taking
airport limo and faster than taking shuttles or trains - especially for families and small groups!

We also provide transportation for:
· Tour & Sightseeing
· Shopping trips
· Corporate & Group Events
· Golfing & Sporting
· Road shows
· Aviation Services.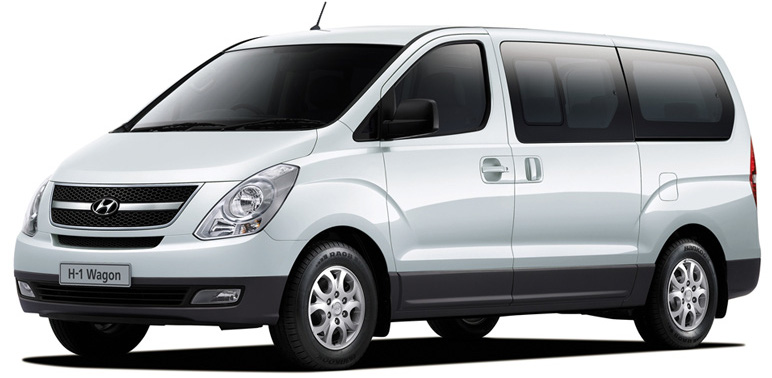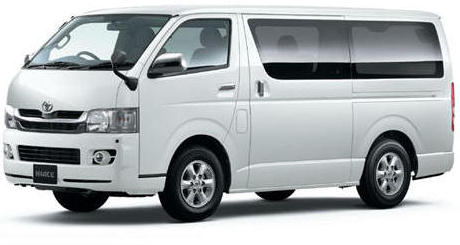 Trains are one of the most popular means of getting around Egypt.
They are inexpensive and generally on time.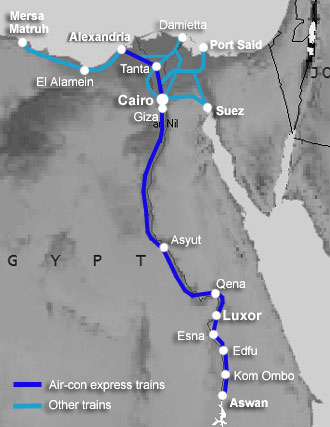 Three different services are offered.
The cheapest and slowest are local the local trains .
Faster and more expensive are the Inter Regional trains.
that require a seat reservation along with the ticket.

Sleeping Trains is a comfortable and a secured way with excellent service to travel between Cairo and the cities in the Nile valley, Luxor and Aswan.

There are day-time trains for country-side enjoyment and over-night trains to save the time by traveling at night.

All trains stop at El Giza station before arriving at Cairo Ramses station.
It is better to plan your journey from Cairo Ramses station since it is the main hub of trains and maintains
better communication and food services.

The sleeper trains run between Cairo, Luxor and Aswan. Leaving from Rameses Station in Cairo,
this train makes few stops: Giza Station, Assyuit, Luxor, Aswan.
SEATING TRAINS
The Different Types Of Seating Trains :
Express

Air-conditioned 1'st & 2'nd classes . Sometimes called French
(pronounced -faransawi - in Arabic ).

Speed

Air-conditioned 1'st & 2'nd classes . Sometimes called Spanish
(pronounced -asbani - in Arabic ).

Turbine

Air-conditioned 1'st & 2'nd classes .(pronounced -tourbini - in Arabic ).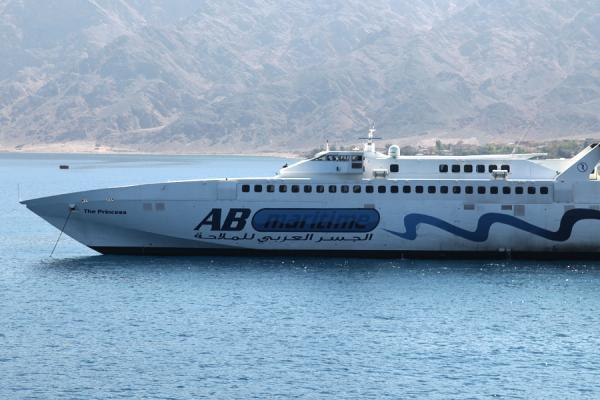 Ferries Service
Hurghada to Sharm / Sharm to Hurghada
DAY

DEP. TIME

ROUTE

SATURDAY

09.00

HURGHADA/SHARM

17:00

SHARM/HURGHADA

MONDAY

05.00

HURGHADA/SHARM

18.00

SHARM/HURGHADA

TUESDAY

08.00

HURGHADA/SHARM

TUESDAY

17:00

SHARM/HURGHADA

THURSDAY

09.00

HURGHADA/SHARM

17.00

SHARM/HURGHADA
The trip takes around 1:30 hours each way
Nuweiba to Aqaba ( Jordon)
To go from the city of Nuweiba to Aqaba in Jordon you will need to take a ferry whether a slow ferry or a high-speed one:
You can get the ferry tickets outside the port entrance, don't forget to have you passport with you.
On board you will be asked to hand over you passport and you will be getting it back when you arrive to Aqaba.
Daily schedule:
Ferry departs once a day at 3:00 PM.
make sure you turn up at least two hours before the boat leaves the port, there is a ferry that leaves everyday,
it should take 3-5 hours to arrive to the Aqaba port in Jordon.
Speed boat ferry
The other speedboat operates daily and leaves around 3:30 PM, Journey Duration takes about 1 hour.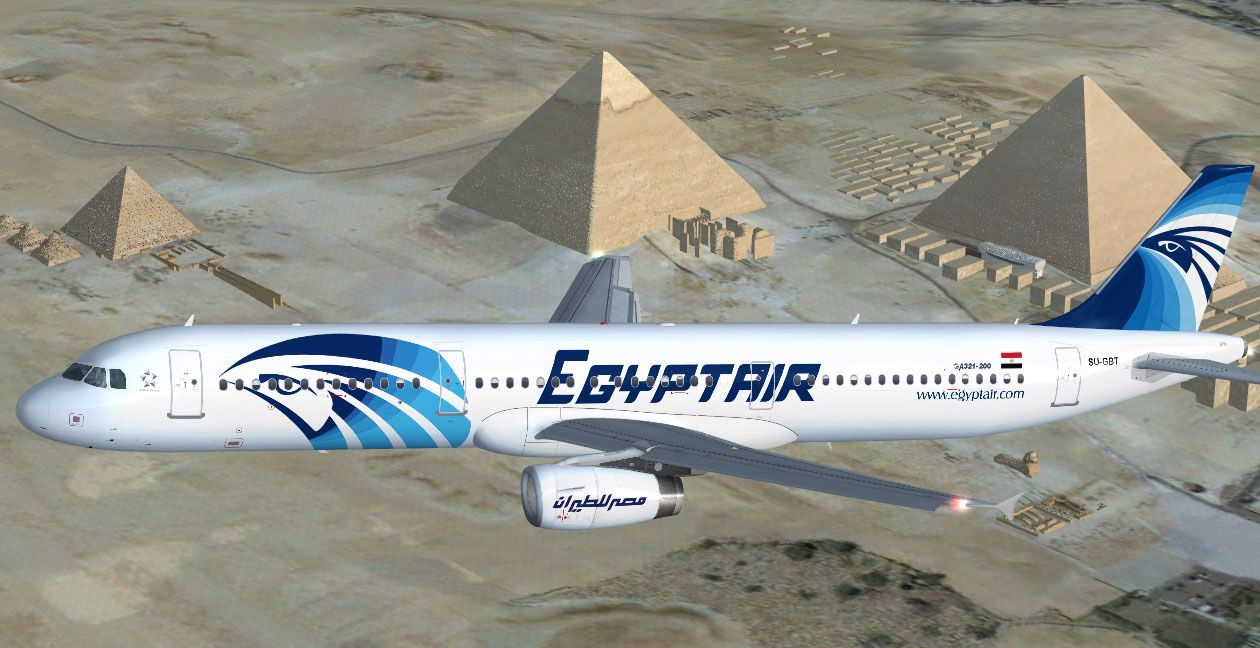 Airlines and Flights:

1. Domestic Flights:
Egypt Air operates all domestic and internal domestic scheduled flights inside Egypt. No other airlines is operating domestic flights.
Daily flights several times per day to and from Cairo for all Egypt major tourist destinations such as Luxor, Aswan, Abu-Simbel, Hurghada, Sharm El Sheikh. Also, some weekly flights to Marsa alam, Alexandria, Marsa Matrouh.
Also, Egypt Air is expanding new scheduled routes inside Cairo.
For more information, please check on www.egyptair.com
2. International Flights:
Many airlines carriers operates international scheduled daily and weekly to/from Cairo, Alexandria and Luxor. In addition, to Charter flights from many European cities direct to Major destination cities in Egypt such as Luxor, Sharm El Sheikh, Hurghada, Marsa Alam and Taba.

Cairo SUBWAY
By far the most efficient mode of public transportation in Cairo, the Metro is clean, reliable, and cheap. Tickets cost from £E1; there are no multiday passes. Trains run from South Cairo (Helwan) to North Cairo (Heliopolis), with sublines to Shubra, Ataba, and Abdin. One of the most useful lines is the cross-Nile line from Giza to Shubra. The Metro runs from 5:30 am to midnight in winter (to 1 am in summer), with trains arriving every 5 to 10 minutes. Each train has cars in the middle reserved for women and children. Women traveling alone are advised to sit here, especially during rush-hour travel, to avoid being hassled or groped.